Are you a Cricut crafter looking to add a personal touch to your projects? If you've ever wondered how to edit an SVG for your craft project, you've come to the right place!
In this blog post, we'll explore three simple ways you can confidently edit an SVG for your Cricut crafts, allowing you to unleash your creativity in just minutes.
By the end of this article, you'll have the knowledge and confidence to make the most of your SVG files. Let's dive in and discover how you can effortlessly customize your designs to create stunning and unique craft projects.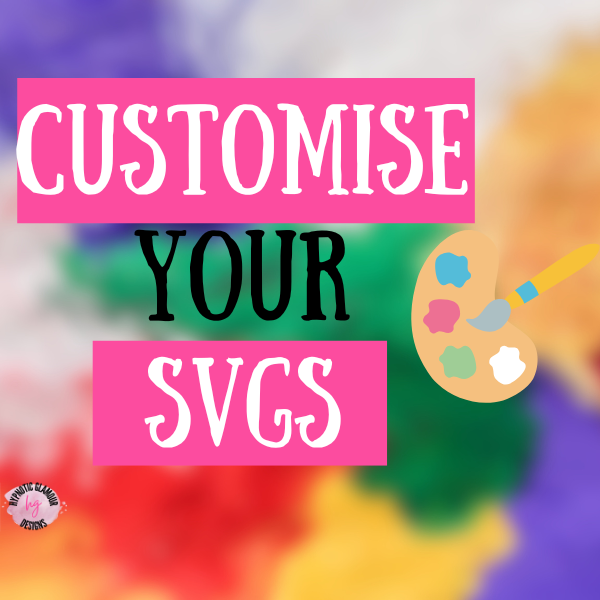 3 Things You Need to Edit an SVG
The right file type
One of the key elements to successfully edit an SVG is using the right file type. It's important to note that you cannot edit raster images like PNG or JPG files directly in Cricut Design Space. By ensuring you have the correct SVG file, you guarantee compatibility and smooth integration with the software.
This simple step provides you with a sense of security, as you can trust that your designs will seamlessly translate into Cricut Design Space. No more troubleshooting compatibility issues—instead, you can focus wholeheartedly on your creative expression and bring your craft visions to life.
The right layer
Once you have the correct file type, the next crucial step is selecting the right layer within your SVG file. This allows you to edit specific elements of the design without unintentionally altering other parts. By mastering this skill, you gain confidence and satisfaction in having complete control over individual elements within your SVG designs.
Say goodbye to inhibitions and hello to personalized expression! Selecting the right layer empowers you to fine-tune your designs, adjust colors, tweak shapes, or add text with precision. The attention to detail you can achieve enhances the quality and visual appeal of your finished projects.
The right tools
Equipped with the correct file type and the ability to select the right layer, it's time to unleash the power of the right tools in Cricut Design Space. These tools are designed to make your editing process seamless and efficient. Once you understand how to use them effectively, you'll experience a surge of joy and excitement as you effortlessly manipulate your SVG files.
Resizing, rotating, mirroring, welding—these are just a few of the incredible features at your disposal. With the right tools, you have limitless possibilities to transform and customize your designs. Embrace the freedom to experiment, explore different techniques, and create truly unique and captivating projects that reflect your artistic vision.
Which of these challenges have you encountered while editing SVG files? Share your experiences in the comments below—I'd love to hear from you and offer any additional guidance you may need.
In the next post, we'll delve into the four components of a successful craft journey. Don't miss out! Click the button below to join the design squad (and get a Free SVGs) to stay informed.
If you're ready to find ready-to-cut designs in just minutes, check out the playlist below now. We've prepared a simple checklist to streamline your search process and help you discover the perfect designs for your Cricut crafts.
Editing an SVG for your Cricut crafts doesn't have to be daunting. With the right file type, the ability to select the right layer, and utilizing the right tools, you can confidently customize your designs and bring your creative ideas to life. Embrace the joy of crafting and explore the endless possibilities that await you. Happy crafting!