Making hand turkeys is a fun Thanksgiving craft for kids to enjoy. Whether you are looking for thanksgiving crafts for 3 years olds or thanksgiving crafts for elementary students, our hand turkey thanksgiving craft printable is perfect for you. In this post, we will teach you how to make a turkey hand from our turkey printable or from tracing a hand.
In This Post
GET THE FREE HAND TURKEY PRINTABLE NOW!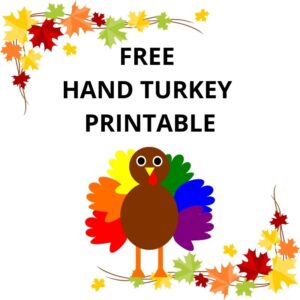 This page contains affiliate links, which means I may make a commission if you make a purchase, at no extra cost to you!
You will need
Craft Specific Items
Scissors for Kids
Scissors for Adults
Directions
Download our free hand turkey printable or turkey hand svg
Cut out each element
Glue the pieces onto the paper roll
Hand Turkeys FAQs
What are hand turkeys?
A fun Thanksgiving craft for kids to enjoy that involves tracing their hand to make the turkey's body and feathers.
How do you make a good turkey hand?
A good turkey hand is a unique turkey hand made from tracing the maker's hand for the feathers.