FREE! FREE?! Who doesn't like FREE!? In my previous post, I told you how to get 10 free Canva credits (plus 1 bonus credit). In this post, I will be showing you how to get FREE FONTS!!!!
Fonts can add an amazing finishing touch to your projects. And with so many options out there, it can be difficult to narrow down to the one you want to use on your project. While I do use all kinds of different fonts to create my pin images for my Pinterest account as well as images and graphics for my blogs, my most favorite type are FREE FONTS!
I use thehungryJPEG.com to download some of the fonts that I use in my designs, and actually just recently downloaded this exciting font bundle for completely free.
Normally, this bundle will run you $104 but keep reading, and I will show you how to get it for completely FREE!
What is thehungryJPEG.com
thehungryJPEG.com is a website offering premium graphic design resources available for instant download. These resources include fonts, graphics, crafts, and so much more.
How much does thehungryJPEG.com cost?
To make an account is free. Sign up is as simple as clicking the registration link in the upper right corner of the page and filling out your information. There are many items, aside from fonts, such as digital papers, SVG files, and stickers to name a few that are free from thehungryJPEG which you can find on this page. There are also many $1 deals that you can find by clicking here.
What can you do with thehungryJPEG.com?
As previously mentioned, thehungryJPEG offers premium graphic design resources. You can use these tools to make cards, cut files for shirts, mugs, hats, and other apparel just for a few ideas. You can design printables, mock ups, presentations, logos, infographics, social media images and so much more!
How do I get my free fonts?
To get the free fonts, first navigate to the free fonts page by clicking here. The only thing further you need to do is share the font bundle on either facebook or twitter. Sound easy? That's because it is. I shared the font bundle on my Facebook page and was then given access to instantly download the file.
What's included in the free fonts bundle?
The bundle consists of 25 fonts from 15 different font families. Their are script fonts, serif fonts, and sans serif fonts to name a few. You will also get the font capability guide, which explains any extras and dingbats that come with the font, the dingbats ornament guide, and instructions on how to install a font.
More deals from thehungryJPEG.com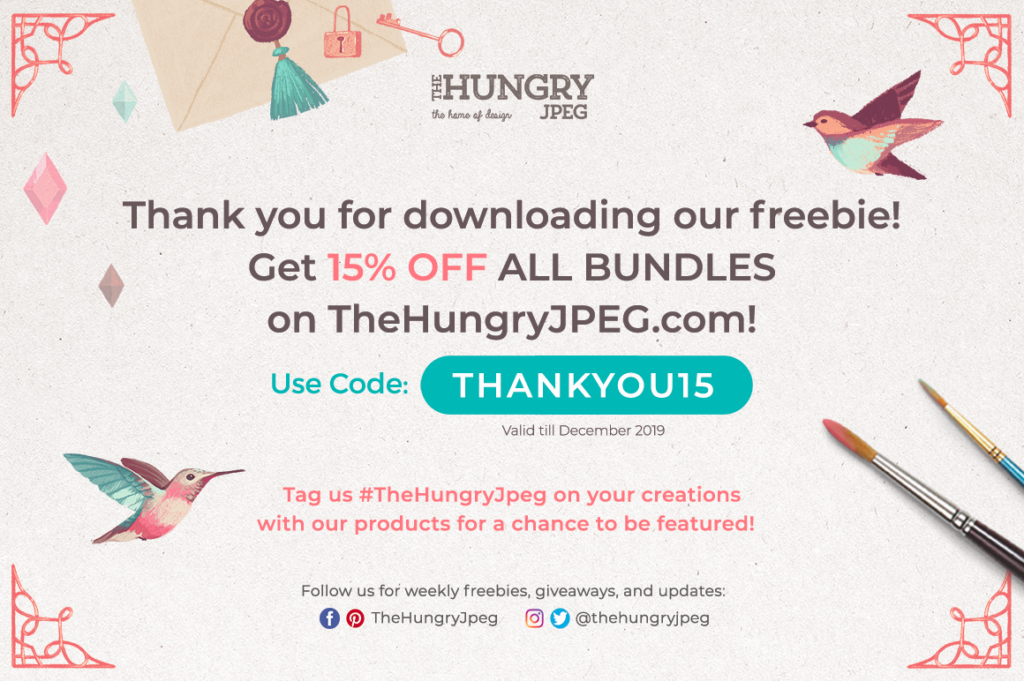 As a thank you for sharing and downloading this freebie, thehungryJPEG is offering a 15% off discount code for ALL bundles! Use code THANKYOU15
That's it! Download your free fonts and let me know what you think in the comments. I'd love to see what designs you've created with these free fonts.
Like this post? PIN IT!