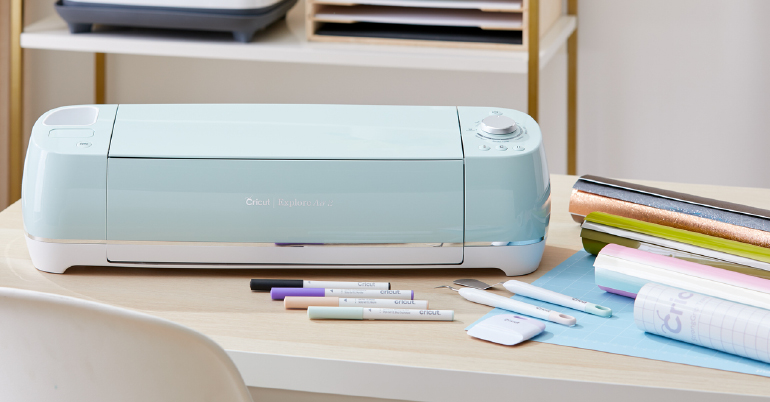 Cricut machines can be a learning curve for the beginning user. Whether you are looking for a gift for yourself or for a friend, I have 10 of the best presents on a budget for your first Cricut project. Not only are these budget-friendly but they help take the frustration out of crafting by making it easy! Check them out in the gift guide below.
In This Post
This page contains affiliate links, which means I may make a commission if you make a purchase, at no extra cost to you!
Never worry about where to find fonts and images again with a Cricut subscription. Choose between Standard and Premium plans offering over 200,000 images, 500 fonts, 10% off licensed images, thousands of ready-to-make projects, unlimited collections, and 10% off all cricut.com purchases. In addition, the Premium plan offers 20% off all materials, and FREE economy shipping on orders over $50. Pay $9.99/month or $95.88/year for the Standard Plan (a $24 savings) or $119.88/year for the premium plan.
Stop straining your eyes to see those difficult-to-see cut lines and speed up your weeding time with a Cricut Brightbox. A great compliment for all Cricut machines. This lightbox illuminates every detail making the hard-to-see cut lines much more visible, which makes the weeding process much easier.
Quickly and easily press your latest project with a Cricut easy press. This lightweight, compact, and portable heat press saves you time and money by eliminating the guesswork by giving you time and temperature settings for every project.
No longer scour the internet for the perfect font and SVG file when you can have it all at your fingertips. Gain access to over 1 million fonts and graphics which include a commercial license.
This one tool is all you need for your future foil project. No more messing with a laser printer and a laminator to get the perfect foil effect. This 3 in 1 tool does it all without the use of heat, only pressure, and lasts forever.
With every color you could want at your fingertips, this vinyl bundle makes it easy to have on hand the exact color you need for your first project. No more having to order a specific color at the last minute. It's also easy to cut and weed saving you hours of frustration.
This variety pack is the best option for your budget as you get the light grip, standard grip, and strong grip mats all in one pack so there is no need to buy each individually which will cost you more money. You will have any mat you need for any project you plan to tackle.
No more vinyl that cracks, flakes, and peels over time. Cricut's infusible ink pens transfer directly into the fabric when heat pressed for a long-lasting, permanent finish. Available in any color you can imagine so you have the ability to make any design you want, right at your fingertips.
Never have to spend hours looking for your craft supplies again. Keep all of your craft accessories easily accessible and neatly tucked away on this roll-away craft cart. Roll it out when you need it and roll it right back into storage when you are finished crafting.
Keep your Cricut free from dust, debris, and dirt with a dust cover. No more having to clean the dust off the machine after letting it sit for a while, and no more worrying about little hands touching or drawing all over your machine.
Cricut Presents on A Budget FAQs
Can I give Cricut access as a gift?
Yes! A Cricut access membership gives access to an unimaginable number of design resources and makes a great gift for a Cricut crafter.
Share this gift guide by pinning it to your favorite Pinterest board!